An upcoming workshop organized within the framework of the program "LMU – UCB Research in Humanities" brings together researchers from LMU Munich and the UC Berkeley to discuss phenomena of "Archaeologies of human mobility and migration".  I am very happy to be able to participate and much looking forward to this event with a rich variety of archaeological case studies.
AcrossBorders, its aims and results are of course highly relevant for understanding people and things "on the move", migration between Egypt and Nubia, but also aspects of appropriation and the entanglement of cultures. The location of Sai Island in a territory of strategic value with changing boundaries and alternating ruling powers in the Second Millennium BC (Egypt and Nubia) allows the addressing of questions of ancient lives across borders and cultures.
In general, we know that mobility of administrative staff and officials was common in New Kingdom Egypt – examples from Sai include the viceroy of Kush Nehi and other officials.  Nehi's monuments in Egypt and Nubia (incl. door jambs, lintels, statues, stelae etc.) illustrate that high officials had temporary living quarters in different parts of Egypt as well as in Nubia.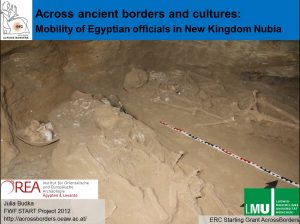 My paper will present results of the AcrossBorders project based on the study of the material culture, here especially of ceramics including data from iNAA. In addition to the analysis of finds and architecture from the settlement, the mortuary evidence helps investigating the coexistence of Egyptians and Nubians on the island. The latest results from Tomb 26 will be discussed, highlightening also the potential of ongoing strontium isotope analysis for exploring the origin of the occupants of New Kingdom Sai.