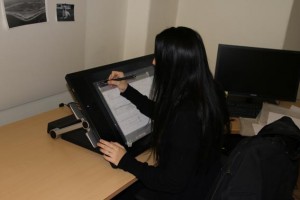 At the moment I am working with a new device – an interactive multi-touch pen display which is really exciting because it is tablet and monitor in one. So far I have drawn with a tablet only. First of all: drawing with this interactive tablet takes practice – you have to find the right position for drawing and get used to it. Arranging the original drawing you want to digitalize on the tablet is quite easy – we just fix the tracing paper directly with tape to the tablet.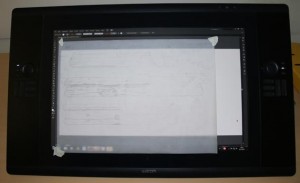 My next step was to personalize everything, e.g. to calibrate the pen, to define key assignments and so on. I am using Adobe Illustrator for drawing, offering tools and applications of high precision. I can choose different line thicknesses, different styles of hatching, color schemes etc. – so there are no big restrictions in comparison to ink the pencil drawings.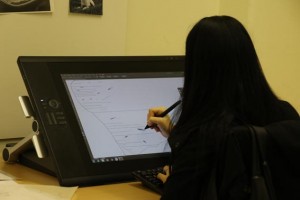 But there is one major difference which is also a great advantage: with digital drawing you can easily erase mistakes with your pen. In our case, I just use the interactive pen upside down and my line gets erased again. Currently, I'm finalizing New Kingdom pottery drawings from the field season 2013. It will be exciting to produce in the upcoming season my own pencil drawings at the site thus being responsible from the first step of the documentation until the final digitalization.