I am very happy to welcome our colleague Huda Magzoub, Antiquities Inspector of NCAM, who has worked with us on Sai in the past years, in Austria! Huda will join us next week at the International Conference for Nubian Studies in Neuchatel, Switzerland and we took this opportunity to hold a small workshop in Vienna, bringing together the AcrossBorders team members.
After some general discussion of our 2014 field season, we focused on ceramics from Sai. The enigmatic fire dogs, currently studied by Nicole Mosiniak, were talked over again: we watched the movies we made during our weekend at Asparn and explained to Huda our ideas based on the experiment of cooking with fire dogs. We all agreed that additional work will have to be done, hopefully also more experiments – it seems obvious that the function of the fire dogs is still not understood on a satisfying level: Sai Island and the large amount of fire dogs from the New Kingdom town has much potential in this respect!
Giulia gave a short summary of our present understanding of the fabrics from Sai, based on recent iNAA and petrography.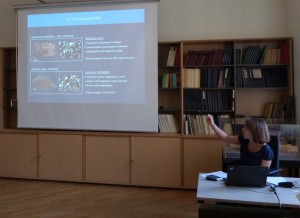 In the afternoon, we practiced the documentation of pottery vessels with registration forms and the database. We discussed here some examples from the Sudan National Museum in Khartoum – Huda is currently working on the New Kingdom material from old excavations, for example at Buhen, Mirgissa and other places. Some vessels provide very interesting parallels to our material from Sai. Without doubt, it will be an important contribution to Nubian archaeology to present ceramics from former excavations with an updated knowledge, adding specifics about the wares and fabrics and the dating.
Furthermore, Arvi passed on some of his experience of drawing pottery. Ela Bielat, who will be joining us for fieldwork in Elephantine, practiced together with Daniela the drawing of sherds while Jördis enjoyed illustrating exemplary small finds. With Huda among us, it really felt as we are back to the field and lab at Sai!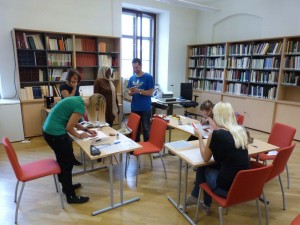 All in all, today was not only a perfect closing of our summer break: Summarizing AcrossBorders' achievements of the last two years and preparing for the upcoming work at Elephantine and Sai, was ideal for all of us – the group which will be travelling to Neuchatel next week, but also the team members who will stay behind and continue with their individual tasks.