The end of week 3 of our excavations in the Pharaonic town of Sai Island, Upper Nubia, is approaching and our File Maker database is increasing day-to-day! It comprises all objects excavated in 2014 so far – a total of 946 finds have been registered from SAV1 East and SAV1 West, more than 600 are new objects found this year! These are mostly stone tools, grinding stone fragments, re-used sherds but also some faience beads, faience bowls and clay objects. The dating of the finds ranges from Pharaonic to Ottoman times – the latter is e.g. nicely illustrated by Islamic glazed ware.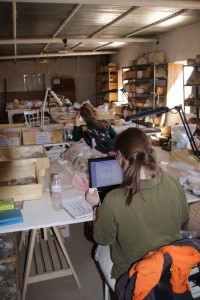 The database gives some basic information, a short description and all measurements of the individual finds. Julia and Nicole are doing a great job registrating the objects –  keeping up to date with the great number of finds arriving from the field on a daily basis is not an easy task – especially as we have 5 trenches open in two different areas!
Today's highlight was a joining piece to a fragment of a Nun bowl (also known under the name of "marsh bowls" as they depict marsh scenes, floral and faunal motifs) found earlier in January at SAV1West – another small fragment, directly joining the first piece, was now discovered in the same area of Square 1, within a  very large assemblage of mid nice 18th Dynasty pottery, just east of the town enclosure wall. I am still hoping that more of this delicate dish will be unearthed this season! Its association with nicely decorated Thutmoside pottery of high quality is very interesting.