AcrossBorders focuses on settlement patterns in Egypt and Upper Nubia in the 2nd Millennium BC – various interactions and mutual influen­ces are attested for these regions which are situated across ancient (Phara­­onic Egypt and Kingdom of Kush) and modern (Egypt and Sudan) borders with diverse environmental and cultural pre­­cond­itions. Much progress has been made in Egyptian and Nubian settlement archaeology in recent years, but further research addressing general aspects of living conditions and the specific coexistence of Egyptians and Nubians is required. Of chief interest are the architecture and structure of the Egyptian towns established in Upper Nubia during the New Kingdom, their social stratification, the local relations of Nubians and Egyptians and the specific material culture.
To provide a platform for the scientific exchange and discussion of ongoing research, AcrossBorders will hold a workshop at the end of June. Thanks to the kind support by my colleagues in the Egyptian Museum Munich, the event will take place in the museum. Bringing together all of AcrossBorders' cooperation partners and other distinguished colleagues working on settlement sites in Egypt and Nubia, the upcoming 2-day workshop in Munich will focus on recent fieldwork at key sites like Elephantine, Amara West, Sesebi and Sai Island. Diverse evidence and new findings relevant for establishing standards of living at the respective towns will be discussed. The programme comprises a range of interesting topics, covering a time span from the Neolithic period to the New Kingdom and introducing current research from Bubastis in the North to Kerma in the South.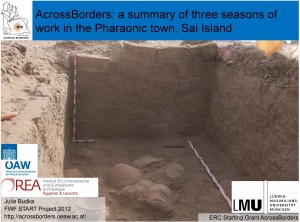 Presentations about Sai by AcrossBorders researchers will start the event: Giving an overview of three field seasons, I will present, among others, feature 15 and its implications for understanding the evolution of the fortified town of Sai. Ingrid Adenstedt will show her latest results working on the town map of Sai. Area SAV1 North is the focus of the research conducted by Florence Doyen. Giulia D'Ercole and Johannes Sterba will cross the bridge from Prehistory to the New Kingdom and show some of their results of iNAA on ceramics from Sai.
I am especially delighted that Charles Bonnet and Dominique Valbelle will join us for the workshop – the highlight of the event will be an evening lecture by Dominique Valbelle on Tuesday evening. This lecture is open to the public and will be followed by a reception at the Institute for Egyptology.
Looking much forward welcoming all colleagues and discussing settlement archaeology here in Munich!