It is well known that Sai Island has been occupied by various cultural groups from Palaeolithic times onwards – illustrating the good living conditions and also a favourable strategic position in the Nile valley which resulted in the importance of the site during the Kerma period and the New Kingdom.
Even if AcrossBorders is focusing on the period of the Egyptian presence on Sai Island, I was always keen to set our ideas and studies into a larger context, the diachronic development of the site throughout the millennia. Therefore I am very happy that Elena Garcea, working since many years on the Prehistory of Sai, was willing to cooperate with my project and we can thus tackle interesting aspects of local and also regional phenomena within a very broad timeframe.
The perfect opportunity to present some of our ongoing research on pottery production came up with the 14th Congress of the Pan African Archaeological Association for Prehistory and Related Studies, hosted from July 14-18 by the University of the Witwatersrand at Johannesburg, South Africa.
Elena Garcea, Giulia d'Ercole and myself will speak about "THE SUCCESSFUL 'RECIPE' FOR A LONG-LASTING TRADITION: NUBIAN CERAMIC ASSEMBLAGES FROM SAI ISLAND (NORTHERN SUDAN) FROM PREHISTORIC TIMES TO THE NEW KINGDOM PERIOD".
Our paper aims to illustrate that in Nubia (Northern Sudan) pottery making has a very ancient tradition with long-lasting aspects of production techniques and raw materials. We will present a comparative study on diverse Nubian ceramic assemblages from Sai Island, covering a period of over 5000 years: from prehistoric times (Khartoum Variant, Abkan and Pre-Kerma) until the New Kingdom period (especially Dynasty 18).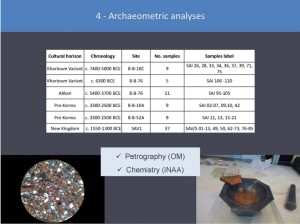 The pottery data are presented according to both stylistic and technological aspects, taking into account the entire manufacturing sequence, from the raw material procurement to the firing of the vessels. In order to address the different archaeological questions, macroscopic and analytical approaches have been combined, by means of petrographic (OM) and chemical (XRF and INAA) analyses.[1]
We do believe that the ceramic production reflects aspects of the general development of economic choices and corresponding lifestyles. Much research has still to be undertaken, but the first results, especially deriving from the INAA, are very promising! We are very much looking forward to the conference and in particular to feedback from our colleagues working in different areas of Africa!
---
[1] We are very grateful to the Center for Earth Sciences of the University of Vienna for its support concerning the petrography (thin sections and OM), especially to Dieter Mader and Claudia Beybel. We also wish to thank the Institute of Atomic and Subatomic Physics, Vienna for the INAA and here first of all Johannes Sterba who is doing a great job working with our Sai Island samples! For some analyses of the Prehistoric samples we are also very thankful to the Department of Earth and Geoenvironmental Sciences, University of Bari, Italy, especially to Giacomo Eramo and Italo M. Muntoni.