Nicole Mosiniak, a MA student from Humboldt University Berlin and skilled draftsperson with a lot of experience in documenting ceramics from Egypt, just started her research on the so called "fire dogs" from the Pharaonic town of Sai Island.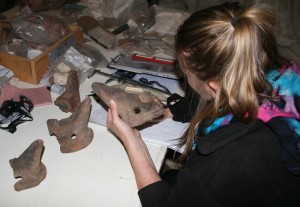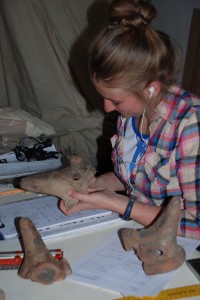 The nick name of these ceramic vessels (of which we found large numbers) derives from hopefully clear associations: a snout-like nose, two eye-like perforations and two long conical ear-like extensions (some archaeologists have had also connotat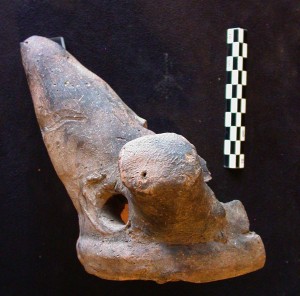 ions with pigs, which are not as convincing because of the long ears)! Although the functional use of these vessels is not precisely known, they are usually connected in Egyptological literature with processes involving fire and burning, most likely cooking.
Nicole aims at reassessing these ideas and will report about her recent findings herself in the near future!
As our team is full of dog-lovers apart from Nicole, we are very happy that we could extend our affection for canine creatures: from the New Kingdom "fire dogs" to another simply adorable representative of canines: Thanks to the Sudanese school holidays, the digging house became the temporary residence of our cook's family puppy-dog – with the multi-lingual education and attention she is currently receiving, a dog with a most promising future!