Getting ready for the 8. Tagung zur ägyptischen Königsideologie in Budapest (12-14 May, 2016)!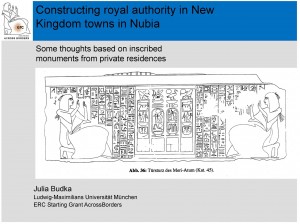 I will speak on this occasion about "Constructing royal authority in New Kingdom towns in Nubia: some thoughts based on inscribed monuments from private residences". The practice of decorating private residences with scenes of adoring the ruling king, represented by his cartouches, and with corresponding texts giving praise to the king is well attested in the New Kingdom. From the reign of Thutmose III onwards, there are examples from officials of various ranks and with diverse duties at sites located in both Egypt and Nubia. These scenes and texts—like other sources—clearly illustrate that for an Egyptian official, loyalty to the king was the key to general well-being and promotion. My paper will highlight a number of aspects of royal authority and its construction in the New Kingdom temple towns of Nubia, which were built on behalf of the living ruler within a "foreign" landscape.
One important aspect is that power of the king was embodied in Lower and Upper Nubia by the viceroy of Kush and his deputies. This can be nicely illustrated by finds from Sai Island, as I tried to show at the last Königsideologietagung in Prague. At Budapest, I will present new discoveries by AcrossBorders attesting to two well-known high officials:  viceroy Nehi under the reign of Thutmose III and deputy of Kush Hornakht under Ramesses II.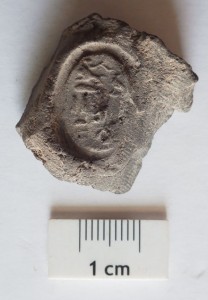 Among the numerous clay sealings from feature 15, there is also one piece (SAV1E 2326), which gives the name and a specific title for Nehi.
Hornakht was already well attested from several door jambs and lintels found at Sai and Abri – but recent work in cemetery SAC5 allows reconstructing the pyramid tomb of this deputy of Kush from the 19th Dynasty on Sai.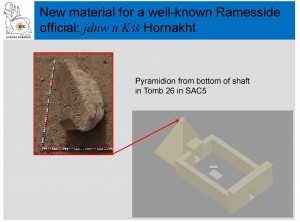 All in all, I will propose some new thoughts on the perception of the power of Egyptian kingship in New Kingdom Nubia – looking much forward to feedback and discussions and of course to all of the other papers at the Königstagung in Budapest!