Work was resumed at sector SAV1 East – this season we are focusing on Square 4. The aim is to understand the respective part of Building A, especially the wall 34, its foundation bed 33 and the adjacent floor pavements.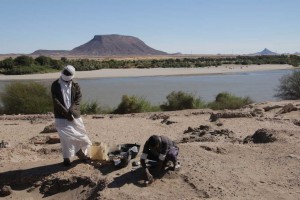 Today, work continued in the foundation trench 33, exposing more of 18th Dynasty mud bricks. However, most of the bricks were removed in antiquity. The filling material of the trench mainly contains pottery from Late Christian times and also some Ottoman sherds. The 18th Dynasty ceramics can be dated to Thutmoside times, corresponding to our previous assessments of the dating of Building A.
As observed in the last years, SAV1 East yielded already after a few days of excavation a considerable number of bread moulds. This is one of the distinctive features of this sector within the New Kingdom town – markedly different from SAV1 North and also SAV1 West.