Today, apart from documenting ceramics in the lab and some mapping in the field, we focused on the North-eastern corner of Building A. As reported, we have a Northern wall running almost East-West, extending beyond the eastern wall towards the Nile. Unfortunately the corner between these two walls is heavily disturbed by a later pit, probably dug in Medieval or Ottoman times. Most of the bricks are lost or broken off; only a few have remained in place. Some of the mud plaster has survived as well – between bricks, but also with negative impressions of now lost mud bricks – thus allowing us to reconstruct part of the masonry. All in all, we are therefore able to trace the alignment of the wall. The northern wall is only 75 cm wide, whereas the eastern wall is more solid with a thickness of 106 cm, thus fitting nicely to a measurement of two Egyptian cubits.
To check the alignment and the junction between the walls, we partly exposed the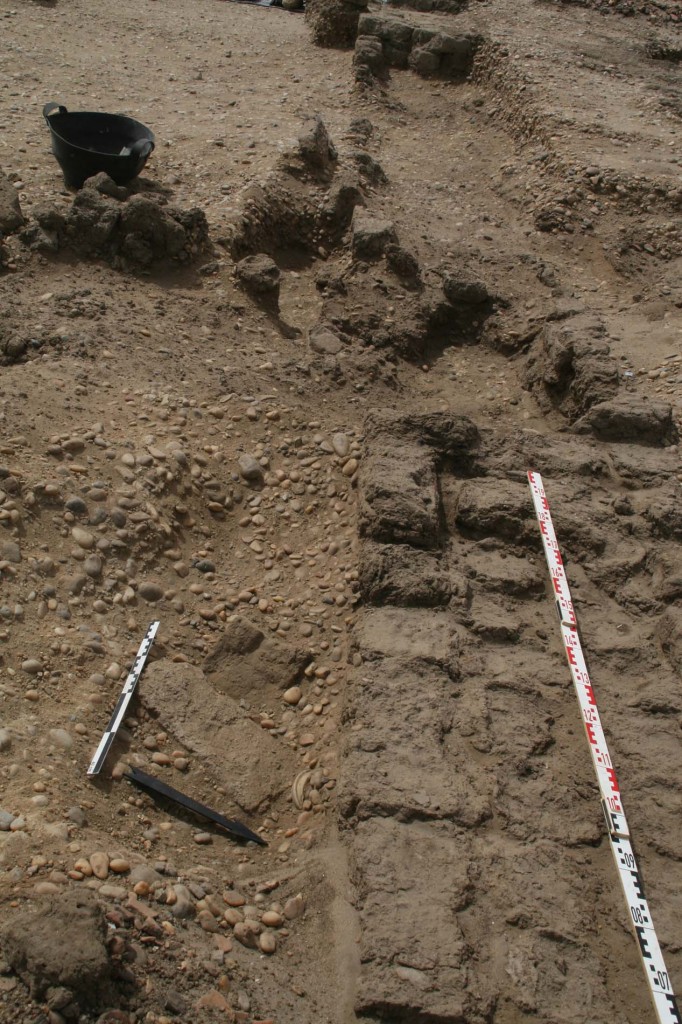 foundation trench of the northern wall. It is well visible both from above and in the section – on both sides of the wall a quite narrow pit, filled with loose gravels and some large mud bricks. Very unexpectedly, two diagnostic pottery sherds were found in this otherwise findless foundation: both seem to give a very good dating indication for Building A at last! At the first glance, both are mid 18th Dynasty in date and a painted rim sherd, shown here in its original find location south of wall 30, will be very indicative as it can most probably be tied down to Thutmose III or Amenhotep II.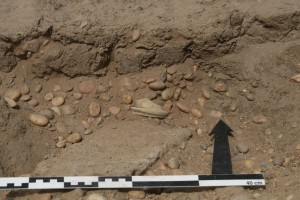 Thus, a dating of our major New Kingdom structure at SAV1E to the reign of Thutmose III becomes more and more likely, confirming our thoughts about the development of the Pharaonic Town of Sai so far!