Week 7 of our field season on Sai just ended – and kept us very busy in Tomb 26. After having finished documenting the burial of Khnum-mes and his wife in Chamber 6, we are now concentrating on Chamber 5 – our hidden western chamber, discovered In January. I am delighted that Marlies Wohlschlager arrived earlier this week, working now jointly with Andrea Stadlmayr as the project's bioarchaeologists on the burials in this part of Tomb 26.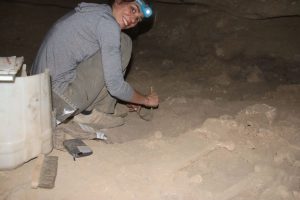 The nicest find from Chamber 5 so far was just taken out today – a small, quite fragile scarab in faience. Its back part has a wonderful decoration pattern showing a lion, a crocodile (which almost looks like a human/prisoner, maybe not a coincidence…) and a snake.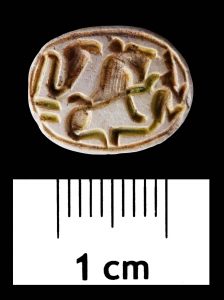 With two amulets in the shape of crocodiles discovered close by at another individual (and, as yet, still left in place), crocodiles seem to have been preferred themes within the funerary equipment of Chamber 5. Since we have not viewed a single living crocodile during this season, really much welcomed!