Week 6 in Tomb 26 focused on the very nicely equipped burial of Khnum-mes in Chamber 6. Documenting it was getting more and more challenging – it is directly next to the northern wall of the chamber, leaving little space cleaning its northern side and for taking photos for Structure From Motion surface models…

In addition to his nicely painted coffin and
funerary mask
and the high-quality stone shabti, Khnum-mes has four stone vessels, two of which are inscribed with his name!
A large-sized scarab just came up yesterday, resting outside the southern side of the now decayed coffin, not yet fully exposed. But like the shabti, this piece is very nicely made and will hopefully give us the name of the deceased. Palaeographic comparisons might even allow some judgement whether these two pieces of mid-18th-Dynasty elite funerary equipment were made in the same workshop…
The second burial in Chamber 6 remained anonymous so far. It had some pottery vessels as burial gifts as well as a nice collection of miniature stone and pottery vessels! Together with Khnum-mes, Chamber 6 yielded a total of 6 stone vessels – quite a considerable amount.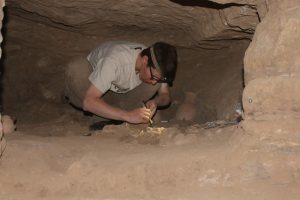 Work in the western Chamber 5 makes very good progress thanks to the efforts by Andrea. However, the situation in the northern part is very difficult. A minimum of 5, possibly more, individuals are buried there below debris, very close to each other and partly superimposing another – a real challenge for cleaning and very time consuming!
Some nice finds were already made in this part of Chamber 5 – a small crocodile amulet and a scarab; more are to be expected in the upcoming week!