I am delighted that in this week AcrossBorders welcomes, jointly with the Egyptian Museum in Munich, Michaela Binder from the Austrian Archaeological Institute here in Munich. Michaela will give a public lecture about her work at cemeteries at Amara West on Thursday, April 26 at 6 pm.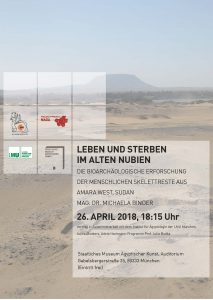 Possibilities and limits of modern bioarchaeology will be discussed with material from Amara West as a case study. Michaela will also illustrate the latest insights into the living conditions during the New Kingdom in Nubia (cf. Binder 2017). This is of course highly relevant to AcrossBorders' research focus of the past five years, comparing evidence from the New Kingdom town of Sai with the contemporaneous elite cemetery SAC5. I am therefore very much looking forward to this talk and excited to hear more about the anthropological findings at Amara West, especially from the point of view from Sai and the latest study of Andrea Stadlmayr and Marlies Wohlschlager on Tomb 26. Some pathological finds in Tomb 26 are quite remarkable, concerning Khnummose as well as other New Kingdom individuals buried in Tomb 26 – will be great to compare these findings and possible conclusions about the lifestyle of the occupants of 18th Dynasty Sai with the life histories of Ramesside officials at Amara West!
Reference
Binder 2017 = Binder, M. 2017. The New Kingdom tombs at Amara West: Funerary perspectives on Nubian-Egyptian interactions, in: Spencer, N., Stevens, A. and Binder, M. (eds.), Nubia in the New Kingdom. Lived experience, pharaonic control and indigenous traditions. British Museum Publications on Egypt and Sudan 3. Leuven: Peeters, 591-613.