Week 4 of our 2017 fieldwork season has just ended – Cajetan and Franziska, who did an excellent job in SAV1 West, have left Sai Island this morning to return back home to Germany. We still have 6 weeks of work in front of us, but as scheduled we managed to close fieldwork in sector SAV1 West.
The results are very important and will keep me busy for a bit longer: Cleaning the lowest deposits of stratigraphy in SAV1 West, both in the wall street and in other structures, it became clear that – despite of everything we thought in the last years – we do have an early 18th Dynasty occupation phase here after all!
Having processed not yet all of the ceramics, it is difficult to give an exact date, but for sure we have a phase predating the enclosure wall. Thus, SAV1 West nicely mirrors SAV1 North, the sector excavated by the French Mission between 2008-2012.
In addition to this very important new information concerning the evolution of Egyptian New Kingdom occupation on Sai, we excavated some nice features this season: two new cellars/storage pits, one grind stone emplacement and various remains of the relevant mud brick structures.
Many thanks again to all team members for making the first half of the season very successful!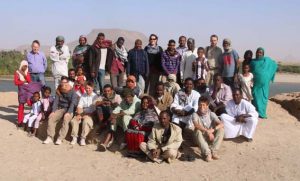 Tomb 26 continued to keep us very busy…. More and more parallels to neighboring tombs excavated by our French colleagues become evident, especially to the close-by Tomb 7.
In week 4, we managed to clear the new western chamber (feature 5) down to a level with many in situ vessels and burial remains. As yet, we have cleaned a very nice individual in extended position, lying East-West along the South wall, with his head to the West. We managed to document traces of his funerary mask – one eye has survived and traces of gold foil. Several miniature vessels were placed at the head, a cluster of flower pots at the feet. Both skeleton and vessels were partly covered by the collapse of side walls and roof.
In chamber 6, the lower chamber off from the trench towards the north, I managed to reach a level with very faint traces of wood and blue, white, red and yellow plus black pigments/colors. It seems very likely that we have here a badly decayed wooden coffin – the first bones appeared yesterday!
Work will concentrate in the next weeks on finds, pottery and Tomb 26 – of course we will keep you updated!