Giulia d'Ercole has spent her first month in Vienna working on the selection of pottery sherds from Sai Island, unearthed from both areas SAV1 North and SAV1 East, which we exported thanks to the kind approval and support of the National Corporation for Antiquities and Museums. The samples have been registered according to fabric groups derived from a preliminary, macroscopical inspection.
The sherds comprise Nile silt wares and Marl clays, Nubian wares as we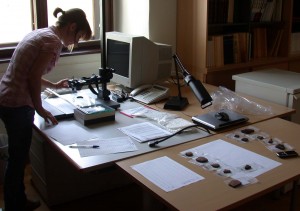 ll as imports from Canaan and Egyptian oases. Our prime interests are possibilities to assess properties of local fabrics for both handmade Nubian style vessels and wheel-made vessels in Egyptian tradition.
Prior to the scientific analysis on the samples which will be undertaken later this summer, Giulia is now busy taking photographs of both the surfaces and sections of the sherds. These pictures will be included into the FileMaker database and form part of our documentation.