The 10th International Congress on the Archaeology of the Ancient Near East held at the Austrian Academy of Sciences in Vienna was officially opened today! A large variety of lectures, workshops and papers all dedicated to various aspects of archaeology in the Near East will keep us busy in the next days.
Highlights will be, among others, a kick-off workshop of the ERC Advanced Grant by Manfred Bietak, "The Hyksos Enigma" and keynote lectures on the current status of archaeological research in the Near East considering the present political situation and respective challenges, especially the preservation of cultural heritage.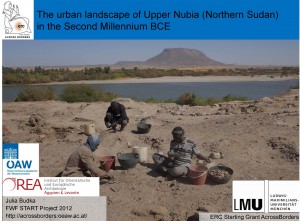 My own paper is part of the section 4 "Landscapes & Settlement Patterns". I will talk about "The urban landscape of Upper Nubia (Northern Sudan) in the Second Millennium BCE". Based on the fresh data from AcrossBorders' ongoing excavations on Sai Island, this paper presents the current state of knowledge regarding the evolution of the pharaonic town on Sai and its role in the urban landscape of New Kingdom Kush. The question whether Upper Nubian sites contribute to our understanding of Egyptian urbanism in general will be addressed as well.