6 weeks have passed since we started work in SAV1 East and SAV1 West – today, we managed to finish the final tasks in the field and with the coming week we will move to the New Kingdom cemetery SAC5; work in the cemetery will keep us busy until the end of the 2015 season. Of course processing of finds and pottery from the town season will continue – the amount of finds was very impressive this season!
Martin Fera and Stefanie Juch finished documentation at SAV1 West – the cellar discovered in the last days of fieldwork in week 5 was successfully cleaned – its vault was still partly preserved.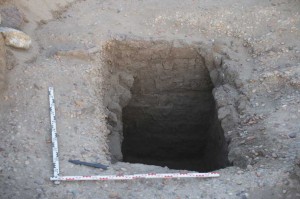 Very nice small finds and a good collection of pottery were found in it – all datable to the 18th Dynasty. At the moment, a mid (to possibly late) 18th Dynasty date is most likely. All in all, SAV1 West yielded in 2015 both new features and more parallels to sector SAV1 North. Loads of useful data to deepen our understanding of domestic architecture and daily activities in 18th Dynasty Sai!
At SAV1 East, Feature 15 almost seemed like a never-ending story – but we managed to finish its excavation today! A very nice red brick pavement was reached in a depth of 1.20 m, still partly covered with a mud floor.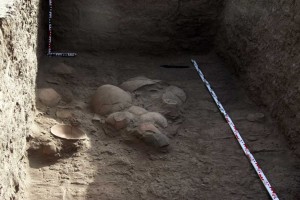 Dozens of intact vessels were found on this pavement and in the deposit above it, together with a substantial amount of clay sealings, small finds like figurines, gaming pieces, stone tools and faience beads. A large number of charcoal and numerous bones (often burnt) imply an association with food preparation respectively consumption. Besides work in the cemetery, processing of finds and ceramics from feature 15 will be one of the main goals of the upcoming 4 weeks. This structure is definitely of key importance for many aspects of living in a "temple town" like Sai Island.