Back in the summer of 2012, a joint paper by Florence Doyen and me was submitted to Egypt & Levant (Vienna), focusing on recent excavations on Sai Island within the area of the New Kingdom town.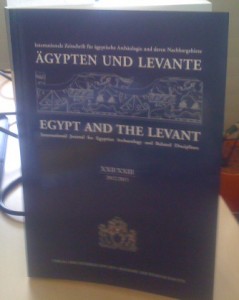 We are very happy that this paper has now been published, being part of a major double-volume of the peer-reviewed journal, covering reports from Tell el-Daba and other Nile delta sites as well as various chronological studies and research concentrating on the archaeology of the Levant.
Our article gives a hopefully useful overview of the history of research on Sai up to 2012, focusing on the recent work by the Sai Island Archaeological Mission (SIAM) of Charles-de-Gaulle – Lille 3 University (UMR 8164 HALMA-IPEL), France.[i] It aims to illustrate the rich potential of the site and its importance for the history of Upper Nubia. The preliminary assessments of the ceramics and architecture from SAV1 North, undertaken in 2011-2012, allow a better understanding of the evolution of the town. As one of the major results of the 2012 SIAM season, the fortified wall in SAV1 North can be dated to the reign of Thutmose III. Until now, there is no enclosure wall attested prior to this king who is well known as being responsible for the heyday of Pharaonic Sai.
SIAM did undertake important steps forward to a closer understanding of Sai Island during the 18th Dynasty – and today, AcrossBorders continues this path with new excavations and detailed assessments, focusing on the material culture and the intriguing mix of life styles at the site.
Full reference of the article:
Julia Budka & Florence Doyen, Living in New Kingdom towns in Upper Nubia – New evidence from recent excavations on Sai Island, Ägypten & Levante 22/23, 2012/2013, 167–208.
---
[i] Other than stated in the editor's preface (p. 14-15), the study has nothing to do with my ERC Starting Grant nor the FWF START project – it rather summarizes the status quo from which the new projects were launched.