Back in 2013, I was extremely happy to find two in situ vessels in the small storage bin in SAV1 East. Given the poor state of preservation of standing architecture and undisturbed deposits in this area, this really was – and still is – important, especially for the early New Kingdom use of our site.
However, things have now changed: never would I have imagined to find dozens and dozens and dozens of intact 18th Dynasty vessels in feature 15… we are currently progressing in cleaning the very ashy deposit within this large cellar – and cleaning more and more pots and other finds!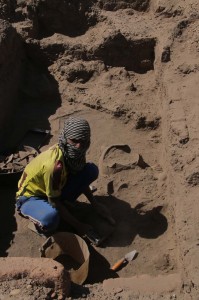 Especially along the northern and southern wall intact vessels were left there, stacked together and often piled one above the other. The variety of the corpus is large and comprises different types of dishes and plates, large storage vessels and zirs, amphorae, pot stands and bread moulds and bread plates.
One of the nicest pieces so far is an almost complete Canaanite amphora! We took it out today and Ken Griffin kindly helped sieving its contents. Being just half way through, he already found some nice clay sealings! More tomorrow insha'allah…