Today, we cleaned the small bin in Square 2 and christened it "Feature 14". We now have the complete outline of the feature and will document it with a detailed drawing tomorrow – this will complement our photographic documentation.
This is why we kept the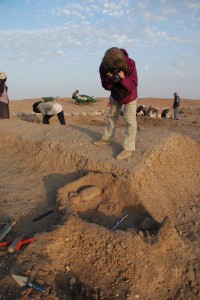 ceramics found inside still in place – and great news here: exactly as we hoped, there was another intact vessel in the Northwest corner of the bin, just next to the one we saw last week! Both pots clearly date to the early 18th Dynasty and are set on debris which filled the bin. Other fragments of sherds of the early New Kingdom were discovered in the filling material during cleaning – nothing later, so it really is an undisturbed context! In the eastern part of feature 14, a pottery dish was smashed by collapsed mud bricks and is still only partly visible.