I was fortunate to present AcrossBorders at several conferences in the last two years (Prague, London, Neuchâtel), as well as on the occasion of invited guest lectures, e.g. in Khartoum, Münster, Göttingen, Warsaw, Swansea and Pisa. Having for the first time a home game in Vienna (19/11/2014, 5:30 pm) is very much appreciated – especially because it gives all current (and a number of future) team members plus Viennese friends and colleagues the chance to join the presentation tomorrow.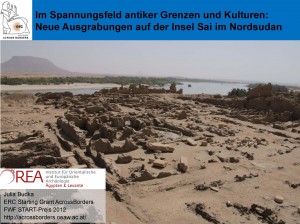 The paper will focus on results of our field work from 2013 to 2014 in the areas SAV1 East and SAV1 West. New insights about the environmental setting, the outline and internal structure of the Pharaonic town will be summarised. Selected finds, including highlights of the 2014 season, and the most important object groups will be discussed.
As mentioned earlier (and elsewhere), objects of Egyptian type dominate the material assemblage at Sai and find many parallels at Egyptian sites in both Egypt and Nubia. Interestingly, the artefacts and ceramics testify to an obvious coexistence between Egyptians and Nubians, from the foundation of the town in the early Dynasty 18 through the remainder of the New Kingdom. During my lecture, I will give some examples, e.g. hybrid forms of pottery, Nubian style female figurines and the small number of hieratic dockets on vessels.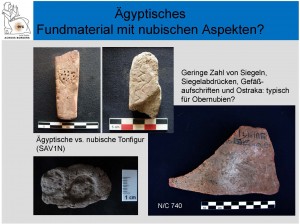 An outline of our planned work in the upcoming season will end this short summary of AcrossBorders' fieldwork in 2013 and 2014 – I am very excited that the 2015 season is approaching and will give us more to think about!