This year the International Conference for Nubian Studies, a quadrennial event of the International Society of Nubian Studies last held at London in 2010, took place at the University of Neuchâtel, Switzerland from 1st Monday to Saturday 6th of September 2014, organized by Matthieu Honegger. This big conference brings together scholars from all over the world – all those who are interested in the archaeology, history, art and cultural heritage of Nubia and Sudan.
Therefore Julia Budka, our Sudanese Antiquities Inspector of NCAM Huda Magzoub and I travelled from Vienna to Neuchâtel, looking much forward to see friends and colleagues and of course to hear the latest research news. For Huda and me it was the first time being in Switzerland and especially for me also the first attendance to such a large scientific event – over 270 people announced their participation.
Distributed over five days, a total of 207 talks in six parallel sessions were scheduled! So you were simply spoilt for choice… Every day started with a main session in the morning dedicated to special topics in the course of history of Nubia (from Prehistory over the Egyptian Presence until the Medieval and Islamic periods). After a long break for lunch the parallel sessions followed in the afternoon. As far as I'm concerned I was mostly interested in the session held on Wednesday, which dealt with the end of Kerma and the Egyptian Presence, where the interesting key lectures were held by Neal Spencer (Egyptian settlements in Northern Sudan), Charles Bonnet (Dokki Gel), Stuart Tyson Smith (colonial entanglements) and Luc Gabolde (royal and divine power among Kushites and Egyptians). In the afternoon session I had to choose between 49 parallel talks (among them the paper by Julia Budka referring to current fieldwork on Sai Island) – not an easy task! Of course also the sessions about Prehistory and Kerma as well as about the Kushite Kingdoms and Medieval and Islamic periods were very worth attending. The end of the conference on Saturday formed the main session focusing on the practice of archaeology and its diffusion with lectures held by Jean-Paul Demoule (Archaeological research in XXIst century), Abdelrahman Ali Mohammed (Salvage Archaeology related to Dams in Sudan) and by Salah eldin Mohammed Ahmed (QSAP).
Apart from the scientific contributions there was some time for social activities and meetings, where we were fortunately very lucky with the weather. Especially noteworthy are the opening reception of the exhibition on Nubia at the Laténium Museum in Neuchâtel or the cocktail at the Palace Du Peyrou and finally the wonderful reception-cruise on the Lake of Neuchâtel.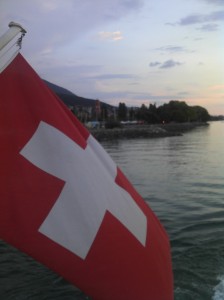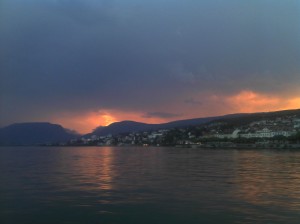 The last week was, due to the tough time schedule, indeed slightly exhausting, but nevertheless very interesting, highly informative, inspiring and a good chance to get in touch with other scholars and young researchers. I'm looking forward to the next International Conference for Nubian Studies in 2018, then in Paris.