We just finished our first field in the field, working on the New Kingdom remains on Sai Island. Unfortunately, our schedule had to be slightly modified – on arrival we found out that tomb 26 was looted back in early summer 2015… So the first unexpected task was of course to document its present state, document the effects of the plundering and clean up the recent debris.
With some delay because of this unfortunate development at cemetery SAC5, we started work as planned in the New Kingdom town. New squares were opened in both sectors currently investigated by AcrossBorders, SAV1 East and SAV1 West.
At SAV1 West, the new extension lies in the south-eastern corner – we are hoping for more mud brick structures contemporaneous to the enclosure wall and located at the inner side of the town. The present findings closely resemble the results from 2015: much material of mid to late 18th Dynasty date was re-deposited in antiquity and now lies on the surface of the area. Large areas of mud brick debris are promising and might cover some structures below.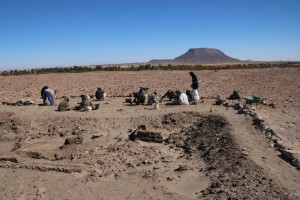 At SAV1 East, we extended the squares towards the west in the southwestern corner of the area. One of the aims is to assess the east-west extension of Building A; another is to clarify whether a north-south street existed in this part of the town (as it was documented further south by M. Azim).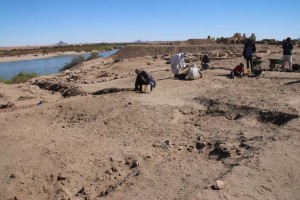 There are no surprises so far at SAV1 East – thick layers of mixed material comprising 18th Dynasty, Ramesside, Post-Meroitic, Medieval and Ottoman finds are covering scarce remains of the New Kingdom. Possibly, we have already located another "negative wall".
Contemporaneously with the excavations, processing of the pottery is conducted directly at the site in newly set-up sherd yards. The amounts from both sectors are very large – 135 baskets of sherds were processed in the first days from SAV1 East, 100 from SAV1 West.
Stone tools and all other categories of finds are registered by Meg Gundlach and Ken Griffin in the digging house. There are already a number of new fragments of firedogs, net weights, female and animal figurines and of course plenty of grindstones, hammers and pounders.
All in all, week 1 suggests a promising 2016 field season, confirming results from previous seasons, but also enabling us to draw further conclusions.