Sometimes the greatest finds just come up 30 min before the end of a day… Our week 2 just ended perfectly: finally, after two years of documenting large fragments of schist with plaster at SAV1 East – obviously dismantled pavements of rooms – we located in situ remains of a substantial mud brick wall with abutting plaster and schist!
In the southwestern corner of Square 4C, a large sandstone block caught our attention. It was dumped between mud brick debris; a faded line of brick was soon visible a bit further to the east. Cleaning these bricks today, I realized that they are the last remains of a large wall, running almost north-south, thus with a similar alignment as Building A.
Still attached to the small section of this wall, there is a large plate of schist and lots of plaster. There was no time today to properly clean the area, but the sandstone block is definitely also sitting on this schist pavement!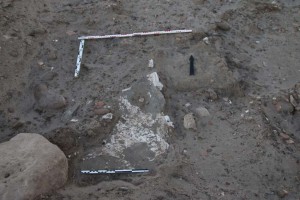 Of course it is still too early to speculate about the shape, size and function of this room – but the new elaborate schist floor finds its best parallel in the large magazines in the southern part of the New Kingdom town. Very exciting and looking much forward to the upcoming week of fieldwork!