Among the highlights from week 3 at Elephantine are several complete vessels from room A in House 55. The pottery database of all New Kingdom ceramics comprises now a total of 12257 entries, 1599 coming from House 55. Amazing is the large number of 247 complete or almost complete vessels from the building — many were found in the cellars of House 55, but also as piles of pots left in corners of various rooms.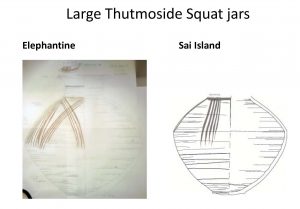 One of the vessels from the latest phase of use of House 55 which was left behind and found last year is a large Marl A2 squat jar, 45602G/a-4. Only the rim and part of the shoulder is fragmented, otherwise this painted jar is completely preserved. It is of Thutmoside date, finds many parallels at other sites in Egypt, and – most important for us – also in the New Kingdom town of Sai. SAV1W P233, found in a cellar in SAV1 West, is also a Marl A2 squat jar and almost of the exact shape like the Elephantine vessel, especially its rim base. The decoration is slightly different, also illustrating the variability of decoration patterns of this type of vessel which had its heyday under Thutmose III.
Further complete vessels from House 55 are large zir vessels – as pointed out earlier, these are mostly of Marl A4 variants. Nile clay versions are less common, but also present, comparing nicely to the corpus of storage vessels from Sai.
Finds from this season from House 55 are mostly re-used sherds, grind stones and other stone tools; clay figurines are also present in small numbers as are lids and stoppers. Similar to the pottery, both parallels and differences are notable comparing these finds with the corpus from Sai Island New Kingdom town.
Week 4 at Elephantine, starting tomorrow, will focus on the documentation of the many complete vessels from this season and on further object registration.