AcrossBorders' excavations on Sai Island have come to an end for 2015. It feels strange at the moment, especially that almost 3 weeks of work in area 2 in SAC5 disappeared under sand again – today we backfilled tomb 26 in order to continue excavating its chamber in the next year.
The shaft of our new tomb yielded a number of interesting finds – inscribed pieces of Hornakht, a complete stone vessel, two scarabs and a number of complete vessels, among them nicely decorated Ramesside Marl clay pilgrim flasks. The rock-cut chamber off to the north was obviously looted and we only cleaned its uppermost debris.
While the next two days will be busy with final recording, packing, storing materials and traveling to Khartoum, I wish to thank already today all of the local fieldwork staff – as in the last years, they coped with sand, wind, nimiti-flies and especially in the last days with a quite remarkable heat wave.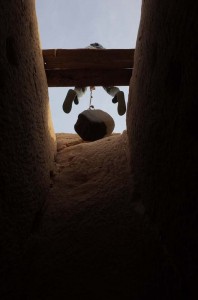 Without their skills and partly painstaking efforts, the results of this very successful 2015 season would not have been possible – the last days in the shaft and chamber were especially hard and a big "thank you" goes here to Mohammed, Hassan, Samir, Farah and Osman! Looking much forward to continue working with all of them next year insha'allah!