Spending some days in Berlin, I just had the pleasure to meet Nicole and Julia – this season's registrars of objects who did a great job on Sai! Reviewing the database and object drawings, I'd like to share some thoughts on animal figurines we encounter in the Pharaonic town of Sai.
At all three sites currently investigated by AcrossBorders – SAV1 North, SAV1 East and SAV1 West, mould-made animal figurines, especially of horses, have been found in the upper levels and in mixed fillings of pits cut into the Pharaonic brick work. They are of Medieval date and complement the small corpus of human figurines from the same period.
In addition, all excavation areas have yielded small, hand-modelled clay figurines of humans and in particular of quadrupeds. The clay is usually poorly fired and most figurines are only fragmentary preserved. There are a few rams attested, but the majority represents cattle. As of now, 8 bull figurines have been found at SAV1 North, 1 piece at SAV1 East and 3 figurines at SAV1 West.
The cattle figurines seem to be of 18th Dynasty date and the question arises whether they fall into the well attested Nubian tradition to value cattle highly – especially because the clay figurines might indicate household religious practice and cattle played an important role in Nubian religion (Smith 2003, 133). The prominence of Nubian cattle survived the Kerma kingdom, the animals had a key significance for the Egyptians during the New Kingdom. Our small clay figurines find ready parallels at several sites in Nubia, for example at Quban (Emery and Kirwan 1935, fig. 33) and Askut (Smith 2003, 135, fig. 5.32). At Sai, a particularly well preserved piece was discovered in the so-called governor's residence, SAF2, during French excavation in the 1970s.
I do hope that upcoming work at SAV1 West will allow us to contextualise the group of cattle figurines in more detail and to confirm their date as New Kingdom. With future finds, we will then be able to continue thinking about the symbolic value and function of these simple but very appealing representations of important animals.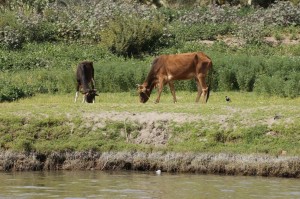 References
Emery and Kirwan 1935 = W. B. Emery and L.P. Kirwan, The Excavations and Survey between Wadi es-Sebua and Adindan 1929-1931, 2 vols., SAE, Mission archéologique de Nubie 1929-1934, Cairo 1935.
Smith 2003 = St. T. Smith, Wretched Kush. Ethnic identities and boundaries in Egypt's Nubian Empire, London and New York.