This week I was accompanying a group of experts working with Julia Budka and focusing on the scientific analysis of the composition of mud bricks used in the ancient Egyptian city on the island of Sai. This study is highly relevant to understand the ancient plants and botanical species.
During our trip to Abry market, looking for modern comparisons, the following caught my attention:
The production of agricultural tools in a traditional, local way:
The tool maker sets wood on fire using wood a bellow for pushing the air – his tool is made of an animal skin and iron. The bellow is used by hand to push air to ignite the fire for heating the iron preparation for a variety of forms, especially to manufacture tools for cultivation.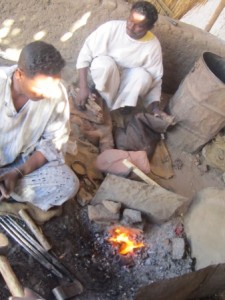 Some of the tools manufactured are the following:
– Machete: or Mongal (local name) used for cutting and cleaning plants.
– Metaphase: or torya used to dig the ground and organized in preparation for planting.
– Axe or Nagama (traditional name) is the tool used to dig a hole to put the seed on the ground.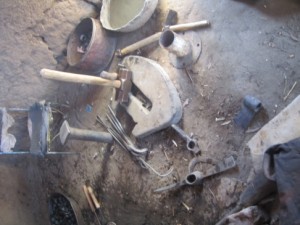 The other thing that caught my attention at Abry was:
The presence of a large room on the Nile containing large and bulky machines, tubs of cement inside the room and outside, located to the west of the gas station of Abry.
According to the locals, it goes back to the period of the English presence in Sudan and has been used for grain milling and turning it into flour, using the water from the Nile. The mill is run both by air and water, converting it into kinetic energy.