The second week of fieldwork in the Pharaonic town of Sai, in sectors SAV1 East and SAV1 West, went really well. Yesterday, remains of a large mudbrick wall with parts of a schist pavement left in situ were discovered at SAV1 East. Apart from this find in Square 4C, work focus on Square 4B – and was quite successful. Although the layers of mixed debris and sandy pits on top of the New Kingdom structures are again massive, a minimum of three, possible four sections of walls were found. Together with the wall of the schist-covered room, all of this is very promising – it seems as if a lot will be added at the end of this season to the town plan of Sai around the sandstone Temple A and Building A!
Regarding pottery, the mixed layers hold a large percentage of early-mid 18th Dynasty ceramics – mostly beer jars and bread moulds. Like proposed in earlier seasons, possibly an indication that the area we are currently excavating was functionally attached to the temple and its cult.
AT SAV1 West, Martin Fera and Klara Sauter made very good progress documenting substantial debris and large sandy pits cutting into the New Kingdom levels. We are still busy with Post-Pharaonic layers, but the New Kingdom material found in these mixed contexts is very well preserved and of great interest. Exactly like in the last years, there is a striking high amount of painted wares. The highlight of this week is definitely a fragment of a nice Egyptian Blue Painted marl clay vessel.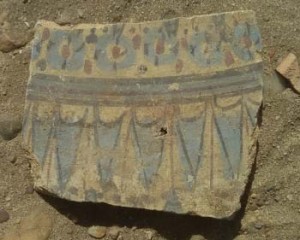 Work in the lab was of course also continued – this week, Meg Gundlach and Ken Griffin got some help from Huda Magzoub, especially in checking the Munsell codes of objects.
Thanks to our enthusiastic Sudanese trainee from NCAM, Roa Abdelaziz, also some work on ceramics from tomb 26 was conducted. Roa and I are currently puzzling with material from the uppermost debris found in the burial chamber and the lowermost shaft filling. This includes a number of Pre-Napatan and Napatan storage vessels.
All in all, I am more than satisfied with the progress and results of the first two weeks! Many thanks to all AcrossBorders team members and especially to the gang of local workmen headed by Hassan Dawd – great job so far!