The very good state of preservation of various types of floors, pavements and other deposits in House 55 made it simply essential to start a micromorphological sampling programme. Compared to Sai Island, the variety of deposits from clear phases of use and their state of preservation is much higher.
Today, we took further samples in Room C – a large hall with 3 columns; two of the bases were still found in situ during this season. These bases are not only important for reconstructing the layout of House 55, but were also quite handy during the sampling process.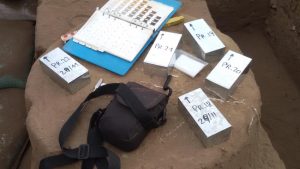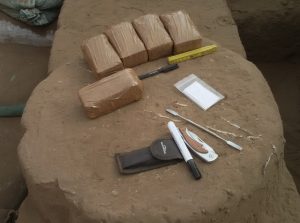 Up to now, we have taken 22 samples from House 55. Some more will follow in the next days, making this set of samples a very representative one for early 18th Dynasty settlement contexts with a complex stratigraphy.