More than six weeks of excavation in House and study season of finds and ceramics from the building passed by very quickly – we closed a very successful season yesterday.
The results were richer and more informative than expected – for the study of the architecture and building sequences as well as the material culture. More than 25 complete in situ ceramic vessels were documented – together with more than 40.000 sherds in total, they provide a substantial corpus of pottery. In 2016, a total of 350 vessels were drawn by Oliver and Eva. Although the number of objects was not overwhelming (though considerable), the stratified contexts and also the in situ position of some interesting tools and other objects present fantastic data for the early 18th Dynasty.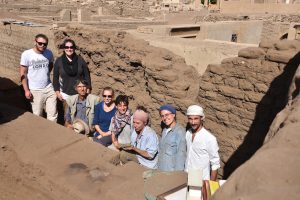 Many thanks to all participants and everybody involved making our work here possible – first of all, of course, to the Swiss Institute and its director Cornelius von Pilgrim. Looking very much forward to processing the rich data we collected and of course to the very final 2017 season at House 55!