Post-excavation processing of all the data from tomb 26 is ongoing and we're making good progress. It became clear already in 2015 that the use-life of Tomb 26 where the pyramidion of the Deputy of Kush Hornakht was found is very complex. All of the major phases of use of elite cemetery SAC5 are reflected in the objects and ceramics from Tomb 26: mid to late 18th Dynasty, 19th Dynasty, Late Ramesside, Pre-Napatan and Napatan (see Thill 2006-2007). Scarabs, stone vessels, pilgrim flasks and complete ceramic vessels are particularly significant.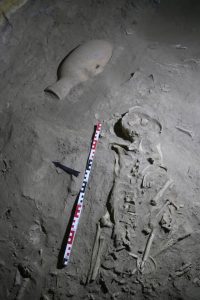 Today, I would like to focus on a large, almost intact amphora found along the north wall of burial chamber 1 in Tomb 26. It was solidly stuck in several layers of dense flood deposits, lying partly lower than remains of individuals in this area which are therefore likely to be younger (or not in place/re-deposited). However, some human bones appeared also below the amphora. The vessel which finds good parallels in both Egypt and Nubia is therefore significant for the relative dating of some of the interments in Tomb 26. Unfortunately, it was found almost isolated. Two broken simple dishes with a red rim and round base were found next to it, on its southern side between the human remains. These vessels correspond to the dating of the amphora itself: the Late Ramesside period (Dynasty 20, see Aston 2004).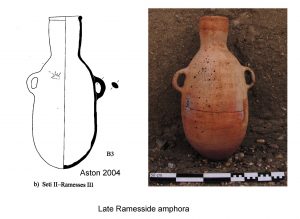 Almost no material from Dynasty 20 is known from the New Kingdom town of Sai – in order to understand the possible end of the New Kingdom occupation on the island, cemetery SAC5 and here also Tomb 26 are therefore of great importance.
References
Aston 2004 = David A. Aston, Amphorae in New Kingdom Egypt, Egypt and the Levant 14, 2004, 175–213.
Thill 2006-2007 = Florence Thill, Les réoccupations "(pré)napatéennes" dans la cimetière égyptien 8B5/SAC5 de Sai, in: Mélanges offerts à Francis Geus, CRIPEL 26, 2006-2007, 353–369.