Time flies by – only some months ago, we were working in the magazine of Sai Island documenting the different groups of objects. Sabine Tschorn had the special task to focus on faience vessels form the New Kingdom town. Most of the vessels within this group represent Nun- or marsh-bowls, frequently depicting marsh scenes with fishes, lotus plants and other motifs.
Sabine just came for a few days to Munich – in order to discuss things, to finalise small details of the drawings and records. We are in particular focusing on the distribution of the faience vessels – most of them were found in SAV1 North and SAV1 West and seem to be of late 18th Dynasty date. Adding the stratigraphical information and context as well as the data from the associated pottery will hopefully allow Sabine the fine-dating of some of the fragments.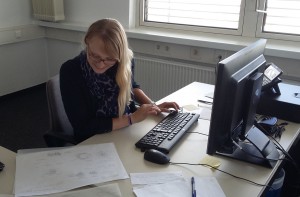 Looking much forward to the outcome of these days of checking and adding post-excavation data!