The second week of AcrossBorders' fieldwork at Sai just ended. Work is making very good progress, although – as usual in archaeology – there were quite some unexpected developments and finds we had to adapt to.
At SAV1 West, the goal of this week was to investigate unexcavated parts of Square 1SE, the northeastern and southeastern corner. After 2 days, we were a little bit disappointed – almost no mud brick architecture was preserved, all New Kingdom bricks were ripped out during the substantial digging activity here in Christian and Medieval times until the natural ground surface. Thus hopes were limited, when we started cleaning a pile of collapses bricks around a very large stone in the southeast corner. It came as a big surprise that the dumped stone was 1) our first royal hieroglyphic inscription from SAV1 West! and 2) sitting on top of a mud-lined storage installation still largely intact.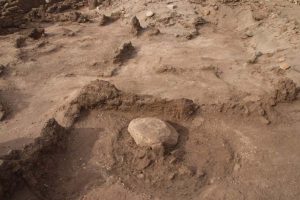 The block is a re-used sandstone lintel with horizontal lines of hieroglyphs – it was recut to an almost round shape and the only hieroglyphs surviving are "nTr nfr nb xaw" – the royal name to follow was of course disturbed… Given all the known inscribed lintels from Sai, it is likely that we have here the badly disturbed inscription of Thutmose III or Amenhotep II.
Especially with the new storage installation, the southeastern corner thus turned out to be really exciting! Cleaning of the pit will continue next week – there were already some very nice finds, see below.
In the northeastern corner, a deep sandy pit, filled at the bottom with mud brick collapse was already excavated in 2016. We wanted to check the bottom of it and there came again a surprise: part of a rectangular brick wall enclosing a lower mud feature of rectangular shape sitting against the natural pebble was found! The only suitable explanation for this feature is the entrance opening to a large subterranean cellar – but of course excavation of this exciting find is not possible because we are directly in the corner of the square.
I really wonder why all of the nice cellars in SAV1 West and SAV1 East are found in baulks or corners of our excavation squares ;-)!
Well, so we had to re-adapt our plans and started an extension towards the east in order to be able to properly excavate the new cellar from the top. This will keep us busy next week!
Objects deriving from SAV1 West were registered as usual by Meg Gundlach. Among the most interesting finds is the head of a female figurine (of a type very common also at Elephantine) and a very nice cauroid bead from the small storage pit in the southeastern corner of Square 1SE.
Work in Tomb 26 made very good progress as well – we had several layers of very dense clusters of bones, all in all probably remains of 4 or 5 individuals. Cleaning and documenting them takes much time. Yesterday, I reached a level of 38 cm thickness completely void of human remains – it's a solid accomplishment of flood levels with very little pottery fragments and still continues.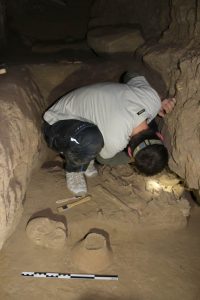 At present, we have cleaned a depth of 72 cm below the entrance to the chamber in the north – we still have not reached the bottom of the trench and hope to do this in the upcoming week.