Amazing how time flies – the Nubian Conference in London 2010 seems almost like yesterday, but now we are already heading for the next one: From today until Saturday the idyllic town of Neuchatel (Neuenburg) in Switzerland will be hosting this year's Nubian conference, welcoming the international archaeological community working in Sudan.
The programme is very rich and diverse, promising a lot of new insights and vivid discussion. I am especially looking forward to hear the latest from Kerma by the organiser of the conference, Matthieu Honegger and his team.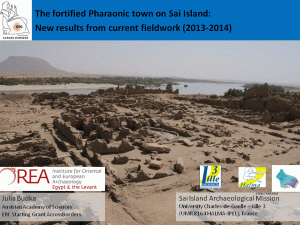 I will be presenting a short summary of AcrossBorders' field seasons in 2013 and 2014 with excavations at SAV1 East and SAV1 West. The outline of the town enclosure will be discussed and I will focus on the new chronological data available for understanding the development of Sai as fortified Egyptian town.
Looking very much forward to the 13th International Conference for Nubian Studies!