Today was quite full of important discoveries in Tomb 26… While Andrea is still working on the nicely preserved in situ-burials in Chamber 5, the new, western "hidden" chamber, I was occupied with the northern, lower Chamber 6 during the last days. We have finally reached the base of the trench giving access to this chamber – with a total of 128 cm depth, it is more or less as deep as expected.
What came somehow as a surprise are the finds inside the chamber. Already yesterday it was clear that we have two extended burials side by side, east-west oriented, head to the west. For the southern one, a small cluster of miniature vessels, nicely placed in a dish was also already known. Two new flower pots appeared yesterday at the feet of the northern individual! Making it now a full dozen of complete flower pots this season so far :-)!
Most important, however, is that I was able to clean something just a bit west of the cranium of the southern individual which allows only one interpretation: fragile plaster remains and faded wood, but clearly the outline of the top part of an anthropoid coffin!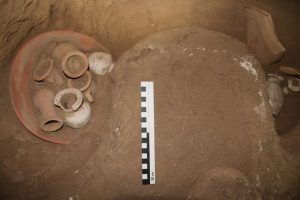 The coffin was nicely flanked by pottery and stone vessels – in addition to the vessels placed in the dish to its south, it had two more stone vessels and one (or two) pottery vessels (guess what shape? of course flower pots again!) just north of the head part.
Although the state of preservation of the bones is rather low, Chamber 6 has already produced many important finds and rich insights for the early use of Tomb 26!