Week 3 of fieldwork in sectors SAV1 East and West of the New Kingdom town of Sai has just ended. There were several highlights this week – first of all a scarab from the floor of a small, not yet completely excavated room in SAV1 East. Of course this find came up just after our registrars Meg and Ken finished a blog post about their activities! We'll share this highlight in another post very soon.
Very good news from SAV1 East: more remains of mud brick walls in situ were unearthed – in combination with lots of schist plates and plaster: evidence of destroyed pavements.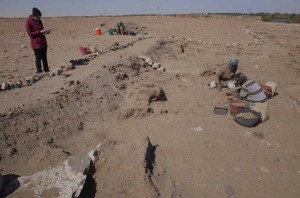 Pottery and stone tools were especially numerous from SAV1 West – more blue painted sherds were found, a number of fire dogs including a very unusual one without a "nose", and lots of beer jars, dishes/plates and pot stands. The stone tools included very nice palettes, grinders and small dishes with yellow and red pigments. They seem to fall into the category of Egyptian type cosmetic instruments well attested at New Kingdom sites. Together with some painter's pots this all fits very well to last year's results and attests to some sort of production and use of pigments during the 18th Dynasty.
At SAV1 East, the upcoming week will focus on the clearance of the already visible 18th Dynasty buildings. At SAV1 West, strong layers of debris still need to be removed and are hopefully hiding some in situ-remains of the New Kingdom.