Perfect timing – just before the holidays, Sokar volume 33 is now available – including a short article about excavations and recent finds in Tomb 26. I highlighted the specific challenges we encountered regarding
the documentation and excavation of the human remains
the stratigraphy
the drawing of skeletons and features
geodetic survey in the chamber
potential of finds and ceramics.
The paper is also the perfect outlook for the upcoming 2017 season on Sai Island – work in Tomb 26 will start already next week insha'allah. Of course we'll keep you udpated!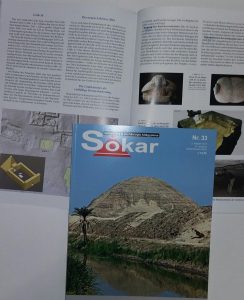 Julia Budka, Neues zum Pyramidenfriedhof auf Sai, Sokar 33, 2016, 60–67.