Having safely arrived in Khartoum yesterday, I don't want to finish this 2014 field season without some personal words and expressing special thanks! Looking around in my hotel room, there are tons of important paper documentation, beautiful drawings and 100ds of digital files, all important data of a very fruitful campaign which we will take to Vienna – keeping us busy in the next months.
But there is also so much more: so many memories – moments of joy, happiness, stress, nimiti-madness and more! All in all I do miss already now, just after one day, the island, the archaeological sites, the tons of pottery, but also the wonderful people there! We have not just been working on Sai Island in the last 9 weeks, but we were living there – and I am very grateful that we'll be coming back! Despite of the dreadful nimiti-flies!
I consider myself very fortunate to be able to work not only at a fascinating and scientifically thrilling site, but also in a very pleasant social environment! Therefore tons of thanks to all of my team members: Sudanese, multi-national and canide! Special thanks go of course to Huda Magzoub, our NCAM inspector who was very busy with all the different sub-projects this year – and did a great job!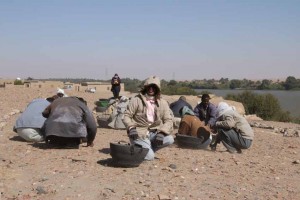 Further thanks to the photographers whose pictures I here use where words would just fail…