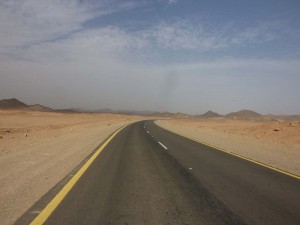 The last two weeks have been full of travelling and meetings, not in Egypt as originally planned, but here in Europe – the excellent Table ronde at Lille, a brilliant Kirwan Memorial Lecture by Vivian Davies at London, meetings with team members and future collaborators here in Vienna, planning for the next field season at Sai Island and placing orders for various equipment. Tonight, I hope to head for Vienna Airport the very last time in September – going to Berlin and picking up equipment, materials and my SUV there. Back to Vienna by car early next week – insha'allah!
As Giulia reported, all is progressing very well, thanks to the support of our colleagues, in both the Center for Earth Sciences with studying finished thin sections and preparing the new ones and in the Atomic Institute where we will get the NAA results of the first group of samples at the end of this month. Giulia will then start to compare her petrographic observations with the data deriving from the chemical analysis.
Florence has also joined the Table ronde at Lille – she is making good progress in assessing the building phases of SAV1 North; and I am concentrating right now (whenever there is time besides all the travelling & organizational work…) on the ceramic sequence from this site. In the upcoming field season 2014 we will not only continue in SAV1 East and open a new excavation area, but will also focus on studying the small finds, tools and different materials like animal bones from SAV1 North aiming to present a concise analysis of its architecture and functional aspects within the New Kingdom town in due time. It will be in particular relevant to understand aspects of the internal organization and to test whether functionally diverse quarters existed within the town enclosure.