Summer clearly has passed – not only has the weather changed, but also the winter term and the upcoming field season at Elephantine are quickly approaching.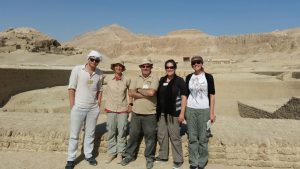 Some of us have just enjoyed a wonderful trip to sunny Egypt and a reunion in one of the most important Late Period necropolis, the Asasif on the Theban West Bank. In addition to a short study season on the pottery from the South Asasif Conservation Project, we participated at the international conference "Thebes in the First Millennium BC". With almost 200 participants, more than 40 papers, 2 days of field trips to tombs and Karnak, this conference was a great success! I was especially delighted to meet so many enthusiastic young Egyptian scholars and students, all keen to learn more about the intriguing Kushite and Saite periods in Egypt.
Now back in Munich, we are currently preparing our Elephantine season – switching from Late Period Thebes to New Kingdom Nubia and Aswan.